POLITICA COOKIES
Información sobre cookies
www.kerastase.com
What are Cookies?
Cookies are small text files stored on your device (computer, tablet or mobile) when you are on the Internet, including on L'Oreal Group's websites.
We mainly use these Cookies on our sites in order to make your browsing more pleasant and to improve the use and the functionality of them; for instance, to recognize you on your next login and to offer you content tailored to your expectations and your interests.
We also use these files to perform traffic statistics and to determine how you discovered our sites.
Which Cookies do we use?
Depending on your device, we set up Cookies in particular to:
identify you and learn more about you to offer you a personalized browsing ;
ensure a secure browsing and fight against fraud ;
offer you content related to your interests ;
suggest commercial offers taking into account in particular your preferences and your latest purchases.
For more information on the Cookies used on this device, please report to the section 'Which Cookies are set up on this Site?'
How to set up the Cookies through my Internet browser?
Are we welcoming Cookies from third parties?
Cookies from third-party websites may be stored on your device and are aimed to personalize and/or improve the content (including advertising) which may be offered to you during your navigation. Depending on the supports, several Cookies of third-party may be stored, including:
Content of Social Networks: we may publish on our supports content from social networks. Thus, by consulting this content on our supports, a Cookie from this social network may be stored on your device. We invite you to read the Cookie Policy of these social networks for more information.
Flash: Flash Cookies are files stored by the software Flash. This tool is often set up as an extension of the Internet browsers in order to display dynamic objects, as animated graphics or video sequences. Thus Flash Cookies may be installed since the use of this application. We invite you to read the Cookie Policy on the site www.adobe.com
Do we put Cookies on third-party support?
We may put our Cookies on websites of our partners broadcasting advertisements for our brands and/or products.
These Cookies are mainly used to present you appropriate content, corresponding to your interests, and to evaluate the consultation of our content (including advertising).
Which Cookies are set up on this Site?
At the 2017/01/01*, the following Cookies are used on this Site:
Status: Working
Name of the Cookie: Identity
Purpose: Identification
Nature: Functional (Mandatory)
Description: Identification of the visitor when he/she logs in.
Status: Working
Name of the Cookie: Google Analytics
Purpose: Attendance and use of the site
Nature: Performance (Optional)
Description: A unique identifier is granted to each visitor through the Cookie__utma. Thus, the same visitor shall not be recorded twice.
Status: Working
Name of the Cookie: Addthis
Purpose: Links with social networks
Nature: Social Plugins (Optional)
Description: This Cookie is set up by AddThis company which provide the social media sharing buttons intended to display the site.
Status: Not Working
Name of the Cookie: Doubleclick.net
Purpose: Evaluation of the advertising impact
Nature: Advertising (Optional)
Description: This Cookie is used to understand how Internet users react to our advertising campaigns. It allows us to understand and evaluate the clicks on our advertisements to help us improve our offers.
Status: Not Working
Name of the Cookie: Cookie 'Basket of products'
Purpose: Formation of the order
Nature: Order on the site (Mandatory)
Description: This Cookie is used in order to save the selections of the visitor and to allow the creation of a basket of products to be validated during the order process.
[If you offer the possibility to disable cookies by category of cookies on your site, please add the following paragraph, as well as a column "Agree / Disagree" in the previous table with a checkbox]:
By clicking "I Refuse", you can refuse the installation of the concerned Cookies on your device. However, functional Cookies, identified as mandatory, cannot be disabled as they condition your navigation on our Site.
As a reminder, by disabling Cookies through your Internet browser, you will disable all the Cookies, including those required for the good functioning of our websites.
*the names of the Cookies used are updated at least once a year, at the 1st January of each year.
Servicios
Tu cuidado personal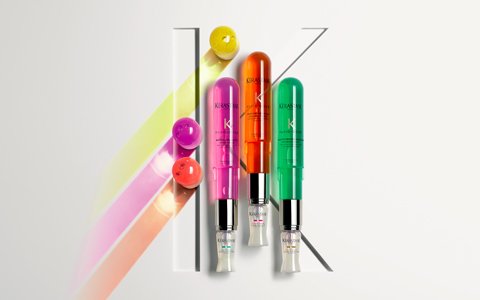 Fusio-Dose en el salón
Más información sobre el exclusivo servicio en el salón de transformación del cabello en menos de 5 minutos.
BUSCAR UN SALÓN
Busca el Salón Kérastase más cercano para tu diagnóstico personalizado y rituales exclusivos del salón.